Attachments
2.1 / 3.x / 5.x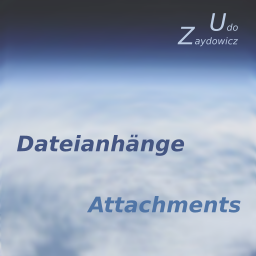 Attachments could quickly become a problem for the administrator of a community for legal reasons. Nevertheless, the possibilities of Woltlab Suite or WoltLab Community Framework for monitoring and management of attachments are relatively modest. Attachments gives administrators more functions to achieve that in a better way.
Description
This plugin expands the attachment system by the following moderative and user functions:
display of the number of user attachments in sidebar and profile,
display of the user attachments on a page in the user panel,
deletion of attachments in the frontend by moderators,
triggering of a (disconnectable) moderation message when uploading attachments,
logging of attachment downloads in the ACP.
With these functions, the laborious way into the ACP to check and optionally delete attachments is no longer needed. You can also transfer these functions to moderators, which you don't want to grant access to the ACP, by using user group rights.

Private attachments used in conversations are protected against access by mods and administrators - as usual in WSC.
Moreover, the plugin installs a box that provides data on members with the most attachments.
Configuration
The following configuration options are available:
modules for the plugin and the report function,
setting the moderative user group permissions for viewing and deleting user attachments,
setting the user group permission for viewing the number of user attachments,
activation / setting of the box.
In order to have the correct number of user attachments displayed in the sidebar and profile you must rebuild data (Rebuild UZ resp. User Attachments) in ACP first.
Versions
Versions 1.0.x are for WoltLab Community Framework 2.1
Versions 3.0.x are for WoltLab Suite 3.0
Versions 3.1.x are for WoltLab Suite 3.1
Versions 5.3.x are for WoltLab Suite 5.2 and 5.3
An update from the WCF version to the WSC version is not supported. The WCF version has differences in functionality and operation.
Notes on Data Protection
As part of logging downloads of attachments, user name, user ID, time, and file name are stored (table wcf1_attachment_log).
All given prices are final prices. According to the § 19 UStG (small business status) we do not charge the german sales tax and consequently do not account it.