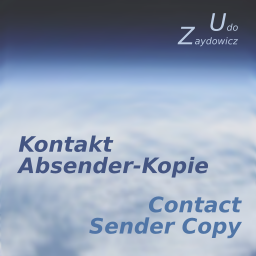 After submitting the contact form, users will no longer have access to the data entered. If necessary, they would have to manually copy and back up these data in one form or another.
Description
Contact Sender Copy for WoltLab Suite extends the contact form with the function to send an email to users of the contact form, which summarizes the entered data. The email is generated directly when the form is sent and is transmitted to the user. For this, the email address configured in the e-mail configuration of the system is used.
The email copy can be deactivated under Module - System. Users can choose to receive an email or not.
WoltLab Suite 5.2 ff are not supported. The Sender Copy was integrated into the plugin Contact Log.
Versions
Versions 3.1.x are for WoltLab Suite 3.1
Notes on data protection
This extension does not store any data relevant for the purposes of data protection.
All given prices are final prices. According to the § 19 UStG (small business status) we do not charge the german sales tax and consequently do not account it.