Members with the most Likes
3.x / 5.x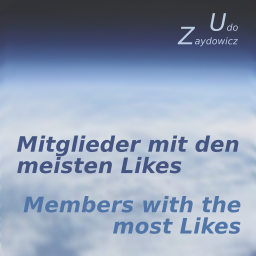 WoltLab Suite already offers a box in which the members with the most likes resp. reactions are presented. However, this box can not be configured with regard to the content. It always displays all likes resp. reactions received since the opening of the community. Members with the most dislikes can not be displayed at all.
Function
In contrast, Members with the most Likes / Reactions offers a variety of configuration options:
choice of counting likes or dislikes resp. reactions,
choice of whether received or given likes / dislikes resp. reactions are to be displayed,
definition of practically arbitrary periods (always referring to the current date) for the likes resp. reactions count,
selection of users by group memberships, status (activated / not activated, banned / not banned) and time of the last activity.
In addition to the current users with the most likes resp. reactions, the top liker of the previous period can also be displayed in the box, if required.
A maximum of 100 users can be displayed in the box. The contents of the box are cached to minimize the load on the system by the box. The cache is refreshed every 3 minutes.
The appearance and positions of the box are the same as those of the respective WoltLab box.
Versions
Versions 3.1.x are for WoltLab Suite 3.0 and 3.1
Versions 5.3.x are for WoltLab Suite 5.2 and 5.3
Notes on Data Protection
This extension does not store any data relevant to data protection.
All given prices are final prices. According to the § 19 UStG (small business status) we do not charge the german sales tax and consequently do not account it.