Members with the most Points
3.x / 5.2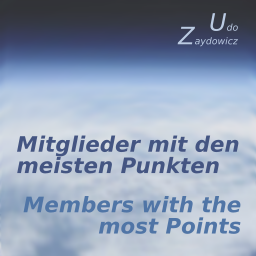 WoltLab Suite already offers a box in which the members with the most points are presented as most active members. However, this box can not be configured with regard to the displayed users.
Function
In contrast, Members with the most Points offers as an additional configuration option the selection of users by
group memberships,
status (activated / not activated, banned / not banned) and
time of the last activity
thus opening the possibility to exclude certain users, like e.g. the admin who typically is the most active user.
A maximum of 100 users can be displayed in the box. The contents of the box are cached to minimize the load on the system by the box. The cache is refreshed every 3 minutes.
The appearance and positions of the box are the same as those of the respective WoltLab box.
Versions
Versions 5.2.x are for WoltLab Suite 3.0 to 5.2
Notes on Data Protection
This extension does not store any data relevant to data protection.
All given prices are final prices. According to the § 19 UStG (small business status) we do not charge the german sales tax and consequently do not account it.