Distinguished Members
3.x / 5.x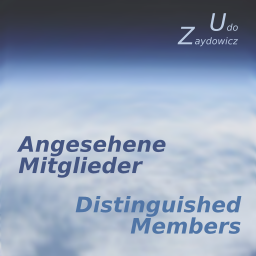 Which members have the most activity points, most posts, or most likes? Finding an answer to this question in WoltLab Suite is not that easy. There is one or the other box in which a ranking can be presented to a specific aspect, though. But a configurable and easily retrievable overview is missing. Distinguished Members provides you with this overview.
Function
This plugin for WoltLab Suite complements a page that displays the members with the most achievements, including most comments, points, likes, posts, and so on. Individual items are displayed in tabs and can be called up by a simple mouse click.
By default, the page is assigned to the members menu, but can be arranged freely via the ACP menu and page management; and, of course, even as a stand-alone menu item. The page management also allows the title of the page to be adapted to your own needs.
You can use the configuration in the ACP to specify which members are displayed in the list. Thus, e.g. banned members or members of certain user groups or inactive members can be excluded from being displayed. And of course you can specify which achievements should be displayed in which order.
With the basic package, the members with the most activity points, attachments, followers, comments, likes, profile views and trophies (only WSC 3.1) can be displayed. Optional packages complement the display options free of charge:
WoltLab Blogs and Blog entries
WoltLab Filebase files
WoltLab Forum posts
WoltLab Gallery images and videos
WoltLab Calendar events
EasyMedia images and videos
JCoins
Points of Interest entries
Display Window entries
VieCode Filebase entries
VieCode Lexicon entries
VieCode Marketplace entries
Thanks to the simple interface, you can also integrate your own extensions, provided that this extension stores the number of corresponding contents in the user table.
Configuration
The configuration in the ACP includes setting the group permission to view the page and setting the contents of the page in Configuration - Users - Distinguished Members.
Versions
Versions 3.0.x are for WoltLab Suite 3.0
Versions 3.1.x are for WoltLab Suite 3.1
Versions 5.3.x are for WoltLab Suite 5.2 and 5.3
Notes on Data Protection
This extension does not store any data relevant to data protection.
All given prices are final prices. According to the § 19 UStG (small business status) we do not charge the german sales tax and consequently do not account it.