Top Poster of the Month
2.1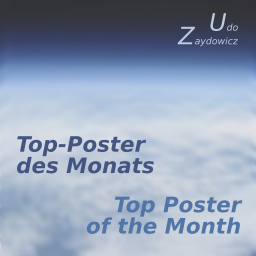 Description
This plugin for WoltLab Burning Board 4.0 or 4.1 provides a Dashboard box (sidebar) to display a selectable number of users with the most posts of the current month. If desired, the top poster of the last month can also be shown.
Furthermore, administrator can configured users and user groups who/which will not appear in the box; e.g. bots, which typically create many posts, but should not appear as a top poster. Additionally posts in boards, for which counting of users' posts is disabled, may be excluded.
Configuration
The box's configuration is done in ACP under System - Options - Dashboard - Sidebar. And of course, the box must be activated in Display - Dashboard for the desired pages.
System Requirements
WoltLab Community Framework 2.1
WoltLab Burning Board 4.1
Notes on Data Protection
This extension does not store any data relevant to data protection.
All given prices are final prices. According to the § 19 UStG (small business status) we do not charge the german sales tax and consequently do not account it.