Members with Anniversary
3.x / 5.x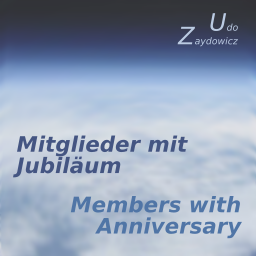 The presentation of birthdays of the members is possible with on-board resources of the WoltLab Suite and certainly useful to allow more interactions between the members. Equally interesting for the members and visitors of the community might be the membership anniversaries. Members with Anniversary presents this information prominently.
Function
This plugin complements a configurable box that allows members' anniversaries to be shown in the left and/or right sidebars. Anniversaries are calculated on the basis of the registration date.
It can be determined whether anniversaries are displayed only on the anniversary or with a few days pre- and post-run. In addition, you can configure how many years of membership will lead to displaying the members; e.g. after a membership of more than 3 years or only when being member for exactly 5 years.
If required, disabled and banned members can be exclude from being displayed.
Configuration
The configuration of the box is done in the ACP under Content - Boxes. Name of the box resp. of the controller is "Today's anniversaries".
Versions
Versions 5.3.x are for WSC 3.0 to 5.3
Notes on Data Protection
This extension does not store any data relevant to data protection.
All given prices are final prices. According to the § 19 UStG (small business status) we do not charge the german sales tax and consequently do not account it.