Threads of the last 24 hours
3.x / 5.x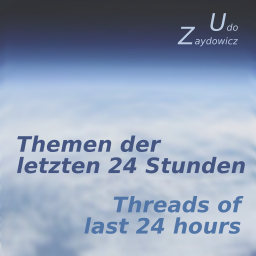 WoltLab Suite Forum offers some overviews about threads such as Watched Threads or Unresolved Threads. However, there is no quick overview of what was going on in the last 24 hours. This plugin closes the gap.
Description
Threads of the last 24 hours summarize the topics centrally on a page, in which posts have been made in the last 24 hours.
Configuration
The configuration in the ACP includes
the setting of the user group permissions for viewing the page and
options for displaying closed and/or resolved threads.
Versions
Versions 3.0.x are for WoltLab Suite 3.0
Versions 5.3.x are for WoltLab Suite 3.1 to 5.3
Notes on Data Protection
This extension does not store any data relevant to data protection.
All given prices are final prices. According to the § 19 UStG (small business status) we do not charge the german sales tax and consequently do not account it.