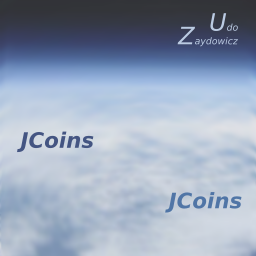 The popular virtual credit system JCoins of WCFLabs.de (Josh) is now available here on Zaydowicz.de and will be supported here in the future as well as further developed.
This plugin integrates an extensive virtual credit system into the WoltLab Suite.
More activity
Through rewards with JCoins users will be inspired to show more activity in your community.
Individually
Of course, the "currency name" JCoins is very special. Therefore, there is the an ACP setting which simply renames the currency. So individual names are possible. Because the plugin has a simple API, it is possible with little effort and little know-how in the WSC programming to implement own plugins and to integrate JCoins easily in your plugin.
Close to WoltLab Suite Core
The plugin works closely with the WoltLab Suite Core. A large number of functions in the WSC are expanded by JCoins. For example, boxes are provided and JCoins is provided as a condition for notes, advertising and automatic user group assignments. In addition, JCoins is provided as a payment provider for Paid Memberships and Files.
Refinancing the Community
With the base plugin, it is possible to sell JCoins automated with PayPal. The administrator has the power to easily see purchases in the ACP. In addition, the administrator can quickly and easily create and manage deals. Also limited time offers are available here.
Available Extensions
A description of most chargeable extensions is available in a article.
System Requirements
WoltLab Suite 3.0 or WoltLab Community Framework 2.1
This plugin contains only the basic module and the "WoltLab Suite Forum" extension. All other extensions must be purchased separately. With version 2.2 the plugin is only available for WoltLab Suite Core 3.0.
Versions
versions 2.1.x are for WoltLab Community Framework 2.1
versions 3.0.x are for WoltLab Suite 3.0
versions 3.1.x are for WoltLab Suite 3.1
versions 5.3.x are for WoltLab Suite 5.2 and 5.3
Notes on Data Protection
This extension stores the user name and user ID of the user in the database when receiving / subtracting JCoins in the frontend (table wcf1_jcoins_statement).
When you buy JCoins (Paid JCoins / Offers), details about the purchase, such as amount, method of payment, payment history, and time, are stored in the database (table wcf1_purchasable_jcoins_transaction_log) in addition to the user ID. For this purpose, system functions of the WoltLab Suite are used. Deleting an affected user deletes its user ID in this table so that it can not be related to a user. However, the transaction history may still contain personal data of the user. The data is retained even after deleting an offer.
Uninstalling the extension will erase all stored data.
All given prices are final prices. According to the § 19 UStG (small business status) we do not charge the german sales tax and consequently do not account it.